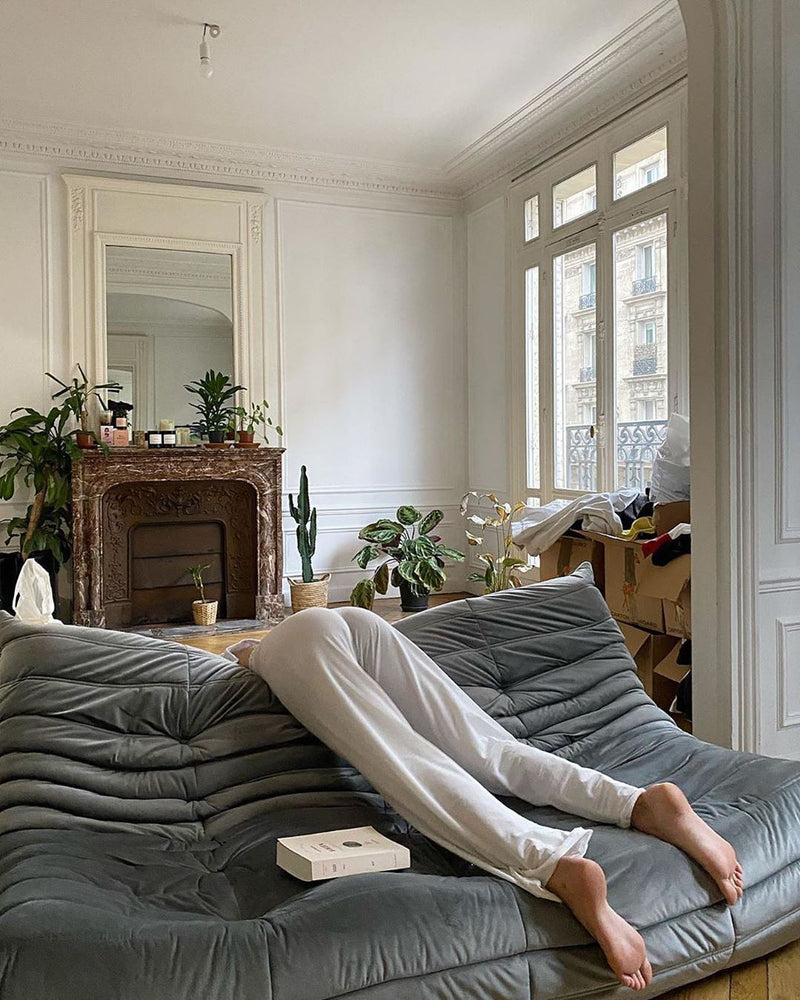 The Essential Guide to Surviving Self-Isolation in 2020
These certainly are most unusual and 'unprecedented' times (This is The Phrase of 2020). No matter where you are right now, Melbourne, New York or Paris, you are likely cooped up at home, in need of inspiration and fun stuff to keep you entertained, so we've put together this list for you.
The recent weeks have been overwhelming watching the world, change in a matter of moments. It is something that none of us could have foreseen, ever. So instead of the usual work life that I am accustomed to designing bags, jetting off around the world and meeting with clients, I am at home typing away on my laptop lying on the carpet alongside my 6 month old baby girl. In a time like this, I thought one of the best things we could do for our community would be to provide a punch filled entertainment guide collating all the great free stuff to do from the comfort of home. That is in addition to maximising your Netflix subscription. 
Once you can take a break from the not-so-inspiring news, the plus is we now have time that we never had before. Time to spend with my way too cute baby girl. Time to talk to friends and family near and far. Time to go for a walk. Time to cook. Time to watch, read and explore the virtual world. Time to clean and declutter (Neither are my favourite activities, but there will indeed be ample time for both sadly without any excuse of 'going out').
We hope you enjoy this list that we have compiled to keep you entertained, upbeat and inspired. Make sure to connect on our socials as will share things to make you laugh. Please reach out and let us know anything we may have missed or anything that will 'spark joy' - We all certainly need some extra sparks of joy at the moment and frankly de-cluttering Marie Kondo style may not cut it.
Stay safe and happy and lets look forward to next Summer when we will all party like there is no tomorrow! We won't take it for granted being able to have a glass of wine with friends, lie in the park or even go to work. And to those on the front line, THANK YOU! 
Monique & Team x 
A note from our Creative Director Monique Arnheim:
Starting with YOU. 
Yoga
Yoga doesn't have to be hard. If you got out of bed this morning and stretched your arms up over your head, you already did a yoga pose. Yoga introduces a mindfulness to stretching so that you pay attention to your alignment and how the positions really feel in your body. This sequence is beginner friendly with a focus on FOUNDATION and FLEXIBILITY. Hop on a mat or a comfortable surface and start to build the foundation of your own home yoga practice with this 40 minute video.
Pilates
@pilatesstudiov is offering free live sessions on their Instagram from their studio in the heart of South Melbourne giving you a tailored workout. Owner Vicki started her Pilates journey over 15 years ago, when she's not in the studio she is working at the Alfred hospital as a registered nurse specialising in injury prevention. Studio V Pilates is offering a great resource for you at home during this time, at a range of different days and times so make sure you give them a follow and schedule a live session into your calendar! 
Workout
It's extremely important that in this time of crisis that we are prioritising our health to strengthen our immune system and boosting our overall health. Establishing a workout routine and sticking to it is more important than the duration & type of workouts you are doing. Even short 7-10 minute workouts can provide health benefits, especially for beginners. Below are a variety of different work outs to try at home provided by @adidas. 
 Workouts for kids: on Sworkit
Meditation
There are many ways in which you can find mediation may help you relieve stress from both the mind and body. You can train your mind to stay present rather than spin off into all the 'what-ifs'. This is not to say you can't think ahead but meditation aims to help you have more control over your thoughts when you want to. You can try this free guided mediation created specifically by Dr Bialylew, for staying calm during the coronavirus outbreak or you can find out more here.
Wardrobe Refresh
Earlier this month, VAMFF kicked off in enthusiasm. However, as the second week came to a close, runway events were cancelled amid government calls to avoid public gatherings. In terms of street style, we saw a lot of laid-back layering and separates, often with an effortless trench thrown over the top. Tonal dressing remained strong on the runway, with colour pops in lavender and soft greens such as mint and sage. Earthy caramels were common too.                    
We are seeing Trench coats and b
lazers/ suiting in all cuts, prints and colours with more consideration to shape, tailoring, more colourful and feminine fabrics. Whilst there is a shift of people more commonly working from home, it's likely we will see a rise in desire to dress up and use clothing as a way to cheer ourselves up, express ourselves and communicate through social media.
What are we retiring from the wardrobe?
Those things that aren't sparking you joy :) as our buddy Marie Kondo would say. Those pieces that you keep holding onto in the hope that they'll fit or because you haven't worn them enough to justify turfing them. Sell or  donate them, they will become someone else's treasure!  
              
What must we have in the wardrobe?
Soft cashmere jumper

Stretch denim jeans
Pop of colour statement handbag (Monogramming available)
Beautifully cut trench


Exploring The Virtual World. 
Museums 
Take a virtual trip to MOMA, Google Arts & Culture is an online platform through which the public can access high-resolution images of artworks housed in the initiative's partner museums. MOMA has partnered with Google to create a virtual experience for those at home to view works of art and history, with 360 degree videos, surround sound and interactive displays. Who needs to take a trip to New York when you have the Internet? click here for your virtual experience.  
Zoo
For all those animal lovers out there, who are longing to see their furry friends we have some good news for you! Melbourne and Weirribee have teamed up to provide live streams of some of their animals. One stream follows three snow-leopard cubs – born on Australia Day – and their mum, Miska. Another features penguins at Melbourne Zoo; one stars the inhabitants of the giraffe enclosure (including a calf called Klintun); and the fourth is centred on the lions at Werribee Open Range Zoo. Click here to check out the live stream feeds. 
Virtual NGV
The Melbourne gallery is temporarily closed because of the Covid-19 oubreak, but head online here for free virtual tours, collection galleries, ebooks and more.
The NGV has also taken its infamous Friday Nights online and is hosting them through their official Instagram account. These Friday nights are completely free and are streamed live through their stories which you can catch here. The first Live session begins on Friday 3rd of April featuring Bae Marie starting at 5pm! so get yourself comfy on the couch and sit back and enjoy. 
VIRTUAL TOURS
We invite you to experience NGV exhibitions from home with our interactive virtual self-guided tours.
Theatre at home
Watch One Man, Two Guvnors with James Corden free online this week! \A comedy hit filmed live on stage at London's National Theatre.
Family Inclusive Activities
Cooking 
Stage three lock-down restrictions began in Victoria at midnight on 31st March, which means that – now more than ever before – us housebound Melburnians need low-risk access to groceries and fresh produce. We have all seen the state our supermarkets are currently in and its safe to say produce is in high demand, so we definitely have to work with limited resources for the time being. Never the less, we have found lots of recipes for you and the family to still enjoy cooking and baking at home with limited ingredients and not have to compromise on the taste! We will update the recipe weekly for you; 
Banana Cinnamon Rolls
Ingredients:
4 spotty bananas Cinnamon
Date Paste: 1 cup Medjool dates (about 12)
1/2 cup water
Optional: 1 tsp vanilla and /or a pinch of salt
Instructions:
Preheat the oven to 250F
Slice the bananas lengthwise into 3 strips each
Lay out the slices on 2 baking trays lined with parchment paper. (6 slices per tray)
Bake for 1 hour at 250F.
Remove from the oven and let them cool for 15-20 mins.
Gently run a finger or dull knife under each slice to release it from the pan.
Flip them over so the side with more moisture is facing upwards
Blend all the ingredients for the date paste. Spread about 1 tablespoon of date paste down the length of a banana slice. Sprinkle with cinnamon. Roll.
Repeat with the remaining slices.
Return them to the oven for 1.5-2 hours at 250F.
Remove from the oven. Allow to cool. Eat immediately or refrigerate for a firmer consistency. 
Audio books
The Amazon-owned business says the books are a great screen-free way to take your mind off the crisis – and also to entertain people during these difficult times. There's no hassle of creating accounts or adding credit cards you can just simply listen for free here.
Veggie patch 
When selecting a position for your veggie patch, chose an area with plenty of sun, protection from frosts and strong winds. Make sure the spot you pick has good quality soil also as this will help your vegetable garden retain nutrients and hold water for long enough to grow. If you don't want to dig right into your garden you can use a raised garden bed, wall planted, wooden planter, vertical garden or pots. Seedlings can be purchased from your nearest Garden nursery, Bunnings and on occasion selected supermarkets. When you go to plant your seeds or seedlings, make sure you turn the soil over with a square-bladed spade. This will loosen the soil, help it aerate and give enough room for the roots to grow and spread. You can view a short helpful video here. 
Puzzles & Boardgames
Get the family together, open those boxes that have been sitting in the cupboard for a while and get the puzzles and board games started. Monopoly, scrabble, Uno, who's in?
Bee Hotel
Give beneficial pollinating insects a home by making a bee hotel. A bee hotel provides nesting habitat for solitary bees that don't sting rather than forming large nests like bumblebees and honeybee. You can fix your bee hotel to a south-east facing wall or fence, and keep an eye out for bee activity throughout summer. To maximise the chances of bees taking up residence, site your bee hotel in a sunny spot where it will stay as hot and dry as possible.
 This bee hotel is made from using old bricks, logs, sticks, slates and pots.